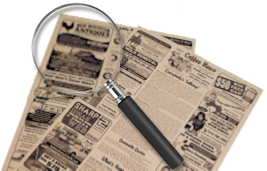 Enter to win our "Find the Coffee News Guy"  Contest!  Which  Ad is the "CN Guy" Hidden in?
Each week, our little CN Guy is hidden in one of our advertiser's ads.  Readers must search through all the ads and locate him. To enter the contest, all a reader has to do is complete the entry form found below. Only one entry per person per week, per edition, is accepted, but you may enter each week for up to 4 chances to win monthly per edition.  Entries are randomly selected from all entry submissions during the month. Winners and the location where they picked up their copy will be published in our weekly Publication.
Pick up a copy of the Coffee News® to search for the hidden "Little Guy" in one of our ads and submit your entry below for your chance to win today!